Multifamily
Expertise
Brokerage, Feasibility Studies, Apartment Development Consulting, Asset Management, Student Housing, Land Banking, Lease-ups & Value Creation
Research, Consultancy & Brokerage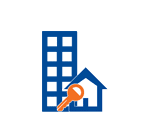 SVN Commercial Real Estate Advisors who participate in multifamily brokerage offer both national and cross border reach with local expertise. Whether you're looking to buy or sell a single property or a geographically diversified portfolio, SVN Rock Advisors have the capability to advise you on your multifamily needs. Our Multifamily Brokerage Advisors routinely work on properties ranging in scope and scale from a small apartment property in a tertiary market to large institutional caliber portfolios. Our commercial brokerage advisors are some of the most accomplished and proficient professionals in the field of apartment and multifamily brokerage. We understand the complexities of today's apartment transactions and are ready to assist our clients with every detail of their apartment investment and help achieve its highest value.
At SVN Rock Advisors, we understand the value of in-depth information critical to multifamily investors and devlopers, including:
Analyzing what market, what product, what amenities type to build;
Persuading—through the careful presentation—renters that the apartment and community meets their specific needs;
Packaging the apartments and community and defining the people to lease it; and
Ensuring afterward that the apartments and community meets their expectations
Defining Renters Personas that include both Demographics and

Psychographics

Designing and Review of Functionality and Lifestyle
Investment analysis
Employment and household growth
Recent sales activity
Our apartment brokerage advisors are committed to delivering the highest level of service. We are continuously looking for new and better ways to serve our clients' objectives in today's increasingly complex apartment and multifamily investment environment.
If you are searching for multifamily or apartment investments, browse our listings in Canada or Cross Border inventory of current opportunities.
Student Housing Brokerage

Purpose-built rental student housing is a growing market that has seen steadily rising demand over the last twenty years, and a supply that has only just started to rise to meet it. The number of students attending colleges and universities across Canada is growing. The number of students coming from outside Canada is growing, as are the number of students who are choosing to attend universities outside their home region.
Student housing has a number of features that make it very different from other forms of purpose­ built rental housing. Suppliers are only now adjusting their building stock to meet these unique demands, and the results are student housing units that better meet the needs of Canada's students, for the benefit of the students, their parents, the post-secondary institutions they attend, and the municipalities they reside in.
A significant portion of new apartment construction that has taken place since the year 2000 has come in the form of student housing. The economics and demographics of Canada's population has made new student housing an extremely profitable enterprise, offering a high rate of return for those who invest in the marketplace. However, student housing is very much a niche market, with an unusual demographic that requires amenities different from a typical purpose-built rental apartment development. Investors who seek to enter the student housing market with the mentality of a conventional apartment developer will have a difficult time. Read More.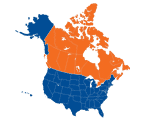 SVN Rock Advisors Cross Border Investing services can open the door for Canadian Commercial Real Estate Investors to hundreds of mid-sized rental
apartment buildings across the Unites States
.
For the seasoned Canadian commercial real estate investor who is looking to diversify their portfolio and take advantage of the massive USA apartment rental market, we can walk with you through the process and help you find the right apartment investments to add to your portfolio.
Cross-border commercial investing brings with it certain factors to consider, such as implications for taxes, estates and liability. As such, it's always prudent to speak to your tax and legal advisors about any commercial real estate investments you will be making.
While these challenges exist, they can be mitigated, if investors turn to brokers who have experience in cross-border investments. International agencies like SVN and its affiliates have built up years of experience in dealing with American tax law, third-party fees, financial arrangements and managing closing costs. They have become adept at linking cross-border investors with properties that meet their immediate and long-term needs, and they've built up a network of contacts who can navigate the rough waters of cross-border bureaucracy and connect the investors to sound properties with a strong return on investment.
The real estate market in the United States is too valuable to be ignored. By connecting with an experienced brokerage team that understands the unique challenges of cross-border investing, international investors can reap the benefits of the American market, without running afoul of the obstacles.
SVN Rock Advisors Cross Border Investing approach involves a multi-tiered ownership structure in order to avoid excessive taxation or liability. Read More.

Land banking and
Land Investments
is a real estate investment scheme that involves buying large blocks of undeveloped land with a view to selling the land at a profit when it has been approved for development.
L
and Banking
is simply the process of securing future property development sites today, at the current price. Many large property development companies buy Greenfield sites, farms or large tracts of
land
and put them in their "
land bank
" to ensure they have a sufficient stock of
land
for future property developments.
Land Banking is the first stage of the seven stage real estate development matrix. It is considered a passive investment position, but is an important aspect of the overall process. Property is acquired as underutilized, undeveloped or raw land and held until market or general conditions present an opportunity for value creation. Planned public infrastructure improvements and zoning changes can impact market trends that result in added value. Land Bankers need patient money, but the goal is for the spread between the eventual sales price and acquisition price plus holding costs will deliver acceptable financial returns. Once these goals are achieved and market conditions are right, the property moves to Land Packaging, the second stage in the development process. Read More.