Forward Sale Activation
Buy early to get a discount
Eliminate competition
Build a relationship with a merchant apartment developer
Secure a pipeline of acquisitions
A win-win for both the developer & buyer
A forward sale is an option that developers consider in certain circumstances. What is a forward sale? It's a binding contract between two parties to enter into a purchase and sale agreement at a fixed future date, the terms and conditions of which are agreed upon today.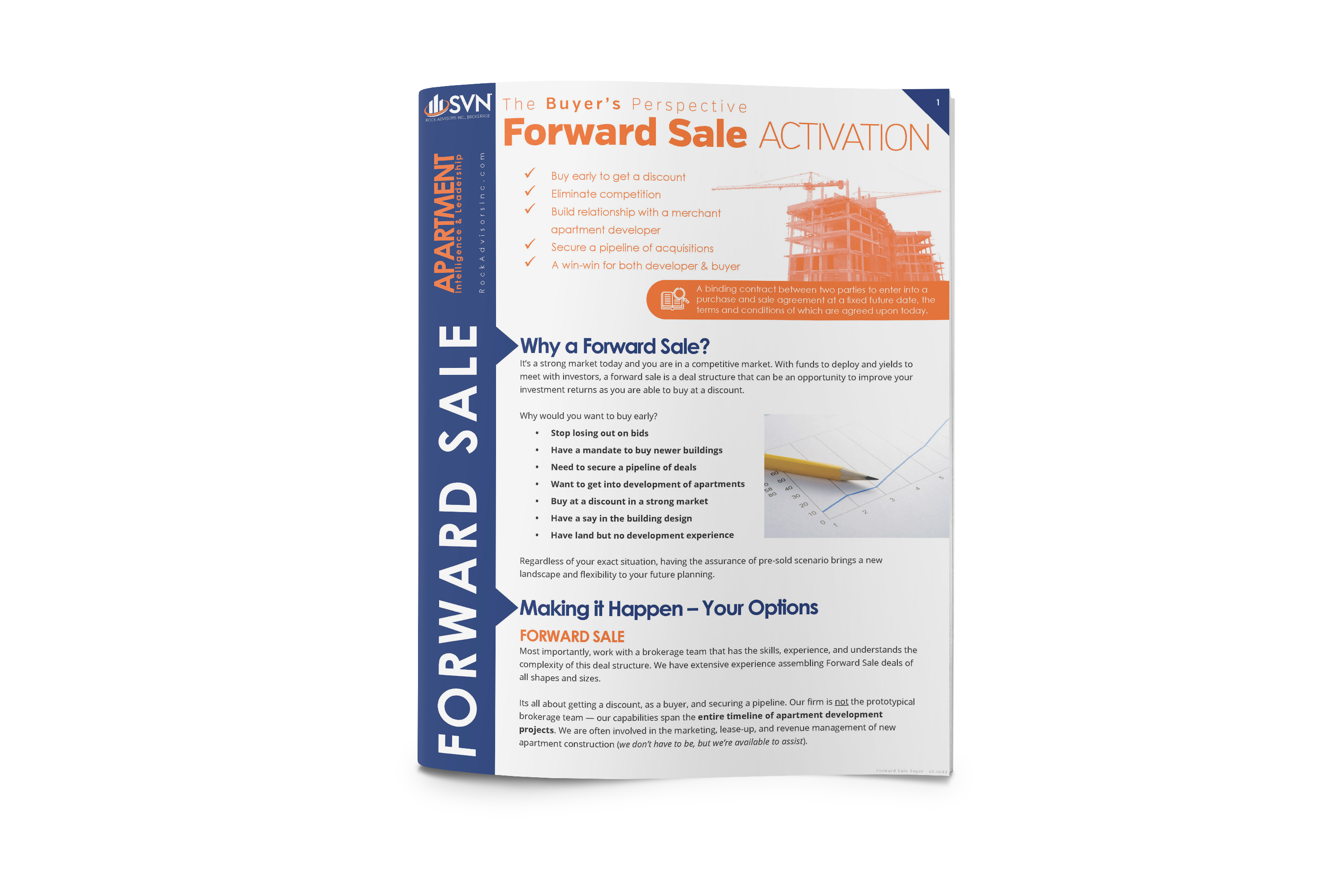 Why a Forward Sale?
It's a strong market today and you are in a competitive market. With funds to deploy and yields to meet with investors, a forward sale is a deal structure that can be an opportunity to improve your investment returns as you are able to buy at a discount.
Why would you want to buy early?
Stop losing out on bids

Have a mandate to buy newer buildings

Need to secure a pipeline of deals

Want to get into development of apartments

Buy at a discount in a strong market

Have a say in the building design

Have land but no development experience
Regardless of your exact situation, having the assurance of pre-sold scenario brings a new landscape and flexibility to your future planning.
Making it Happen – Your Options
Forward Sale
Most importantly, work with a brokerage team that has the skills, experience, and understands the complexity of this deal structure. We have extensive experience assembling Forward Sale deals of all shapes and sizes.
It is all about taking a discount, as a buyer, and securing a pipeline. Our firm is not the prototypical brokerage team — our capabilities span the entire timeline of apartment development projects. We are often involved in the marketing, lease-up, and revenue management of new apartment construction (we don't have to be, but we're available to assist).
Stabilized Asset
The traditional path is the creation of a stabilized apartment building, prior to sale. Execution of this path is in our wheelhouse!
Assist developers in getting the highest rent possible, to exit the deal

We bring our complete marketing, lease-up, and revenue management skills/coaching to your team – to maximize your sale price

Revenue management for maximizing attainable rents – a $0.20/ft2 difference can mean millions of dollars gained or lost!
Regardless of where you are in the project timeline, we have FULL Service Experience™ capabilities to help you drive revenue and get you the highest price for your apartment building!
Check out our clients who've already executed successful forward sales:
To speak with us about your forward sale potential, contact us today!