CANADIAN PURPOSE-BUILT STUDENT ACCOMMODATION ADVISORS
We Sell More Student Housing in Canada Than All Other Brokers Combined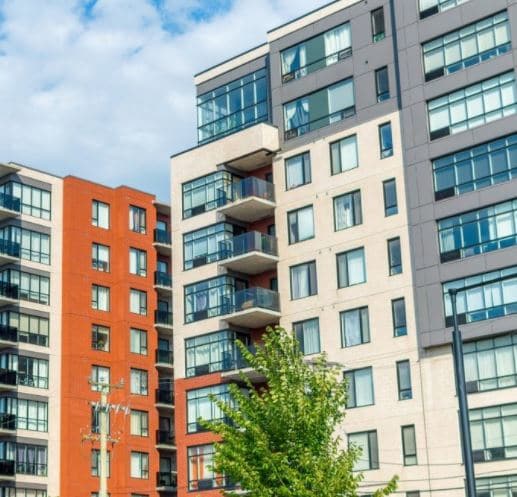 Experience
A significant portion of new apartment construction that has taken place since the year 2000 has come in the form of student housing. The economics and demographics of Canada's population have made new student housing an extremely profitable enterprise, offering a high rate of return for those who invest in the marketplace. However, student housing is very much a niche market, with an unusual demographic that requires amenities different from a typical purpose-built rental apartment development. Investors who seek to enter the student housing market with the mentality of a conventional apartment developer will fail.
ACROSS CANADA, OVER 1,000,000 STUDENTS ARE CURRENTLY ENROLLED IN COLLEGES OR UNIVERSITIES. OF THAT NUMBER, THERE IS AN ESTIMATED DEMAND FOR OVER 400,000 ADDITIONAL BEDS.
Across Canada, over 1,000,000 students are currently enrolled in colleges or universities. This presents a challenge to local communities and an opportunity for investors. Demand is already strong for quality student housing in centers with universities, and it's only going to get stronger. Not only will an additional 400,000 students be looking for accommodations, but students will also be staying in school longer as they pursue more years in education.
Student Housing Development Has Special Needs
Student Housing Developers need to be aware that student housing comes with a unique set of demands that must be met before new housing leases out at the top rents. Location is a major factor to consider since students are moving into their own accommodations for the first time in their lives. Many do not have access to an automobile. Students need to be close to their schools and will pay much higher rates for a property that's located close to a university, and far less for one that requires a longer commute to class.
Renting to students means short-term leases with more tenants per year than conventional rental apartments. Although many universities are offering more classes during the summer term, the bulk of the market still needs a new apartment lease starting on September 1st, and the summer is a challenging time to keep apartments occupied.
Do you have a Purpose-built Student Accommodation project or are you interested in exploring Student Housing development?
Talk to us today!
Building the Best
Most importantly, students these days want well-managed, high-quality housing. Gone are the days when overcrowded houses in student ghettos are acceptable. Students today have more disposable income, their parents are willing to contribute towards housing costs, and students are willing to share space in order to split the cost of higher rents. Students are also looking for privacy, meaning that purpose-built student housing must be designed with multiple bedrooms, with doors that lock. Kitchens must be fully equipped, and each unit should have a minimum of two bathrooms.
Students will also pay a healthy premium for updated amenities like fitness centers, game rooms, and study rooms as well as ease of access to such amenities as restaurants and movie theatres. A good student apartment should feature amenities one would find in a midrange condominium, including flat-screen TVs and double beds.
STUDENTS THESE DAYS WANT WELL-MANAGED, HIGH-QUALITY HOUSING. GONE ARE THE DAYS WHEN OVERCROWDED HOUSES IN STUDENT GHETTOS ARE ACCEPTABLE
Bigger Investments, Bigger Returns
Student housing is a management-intensive investment. Each unit will have a high tenant density over the course of a year. Parents will visit, friends will come over, and many will stay overnight as they cram for exams. Landlords must be prepared for increased wear and tear on the building. Additional amenities will add to the costs of upkeep.
However, in return for these higher operating costs, students these days have more disposable income, as well as parents and two sets of grandparents willing to help their children take this first step into adult life. A well-designed student apartment will get building owners more dollars per square foot than a conventional apartment.
What to Build, and Where to Build It
Successful developers of student housing need to examine the market carefully and build near universities. Look to the future and build near colleges and universities that are growing. Note that some are growing more rapidly than others. Also look at the university's full-time vs. part-time enrollment figures, since only full-time students need housing.
Be aware too of the local demographics. Student housing will bring a higher rate of return in centers where more students come from out-of-town. Cities like Toronto and Montreal have well-established universities with large student populations, but George Brown College has a higher portion of students who have grown up near these campuses, and commute from their parent's homes. On the other hand, 20% of the students attending McGill University come from outside of Canada and have large disposable incomes and a need for luxury student accommodations.
IN BUILDING STUDENT HOUSING, IT'S IMPORTANT TO BUILD RELATIONSHIPS WITH THE COLLEGES AND UNIVERSITIES YOU BUILD NEAR. THEY ARE PROVIDING THE BULK OF YOUR MARKET.
Approaching the Community
In building student housing, it's important to build relationships with the colleges and universities you build near. They are providing the bulk of your market, and they can help you lease up your product through word-of-mouth advertising, or even distributing pamphlets to students as they arrive.
Some communities have also had an antagonistic relationship between student communities and local residents, with disputes going before the city council. Keep the public informed about your developments, and prepare information for public meetings in order to address the concerns of local residents. Being open to the community response not only helps you to identify and meet demand but helps build your brand as a good neighbour.
Finally, whatever you build, build well. Low-quality products will age quickly and lose its market position. Amenities in line with a condominium lifestyle will help attract the best student tenants paying the highest rents. A well-built, secure facility will also help with the parents' peace of mind. Building high rise or low rise, concrete or wood frame depends on the target city or town. A mid-rise development is more appropriate in a suburban town like Barrie whereas high-rise developments make more sense in Toronto and Montreal.
Student housing is a specialized marketplace requiring specialized knowledge to provide the best rate of return. However, the rapid growth of this marketplace and the quality of the clientele offers many opportunities for a developer willing to take the time to learn the nuances of the marketplace.