Previous Webinars:

Apartment Thought Leadership Webinar Series: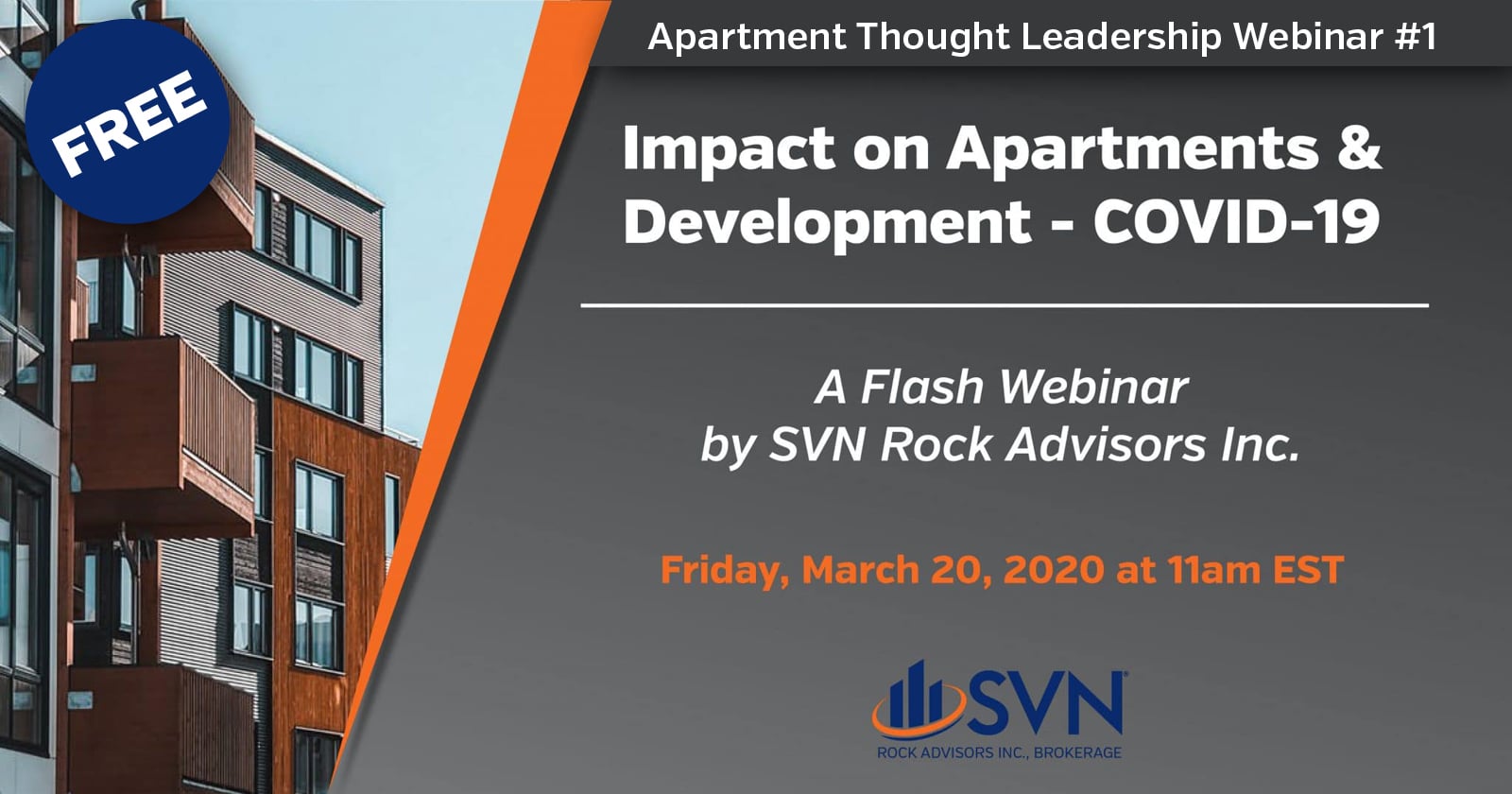 What happens to apartment rents and vacancies in an economic downturn?
What should a developer who is currently under construction do right now?
The one thing you should change about how you lease apartments to maintain your current NOI.
What are the opportunities and dangers for apartment investors during this time?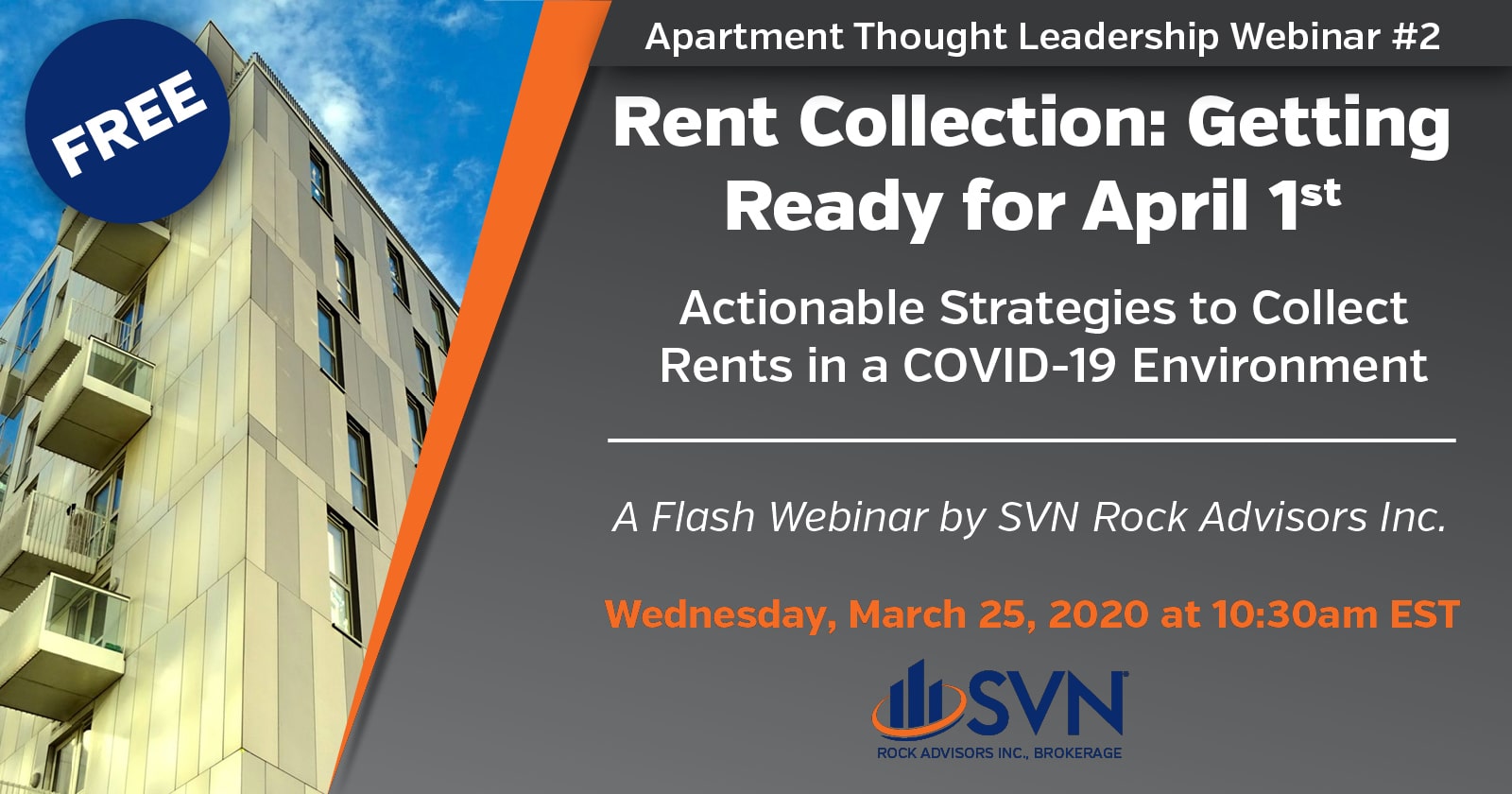 Click to Watch Replay
Learn actionable items to collect rents in a COVID-19 environment!
Discussion points in negotiating strategies with your tenant if they can't pay their rent.
What documentation would be prudent to use for non-payment of rent?
What will happen to: Rents, Cap Rates, and Transaction Volume
Answering your questions.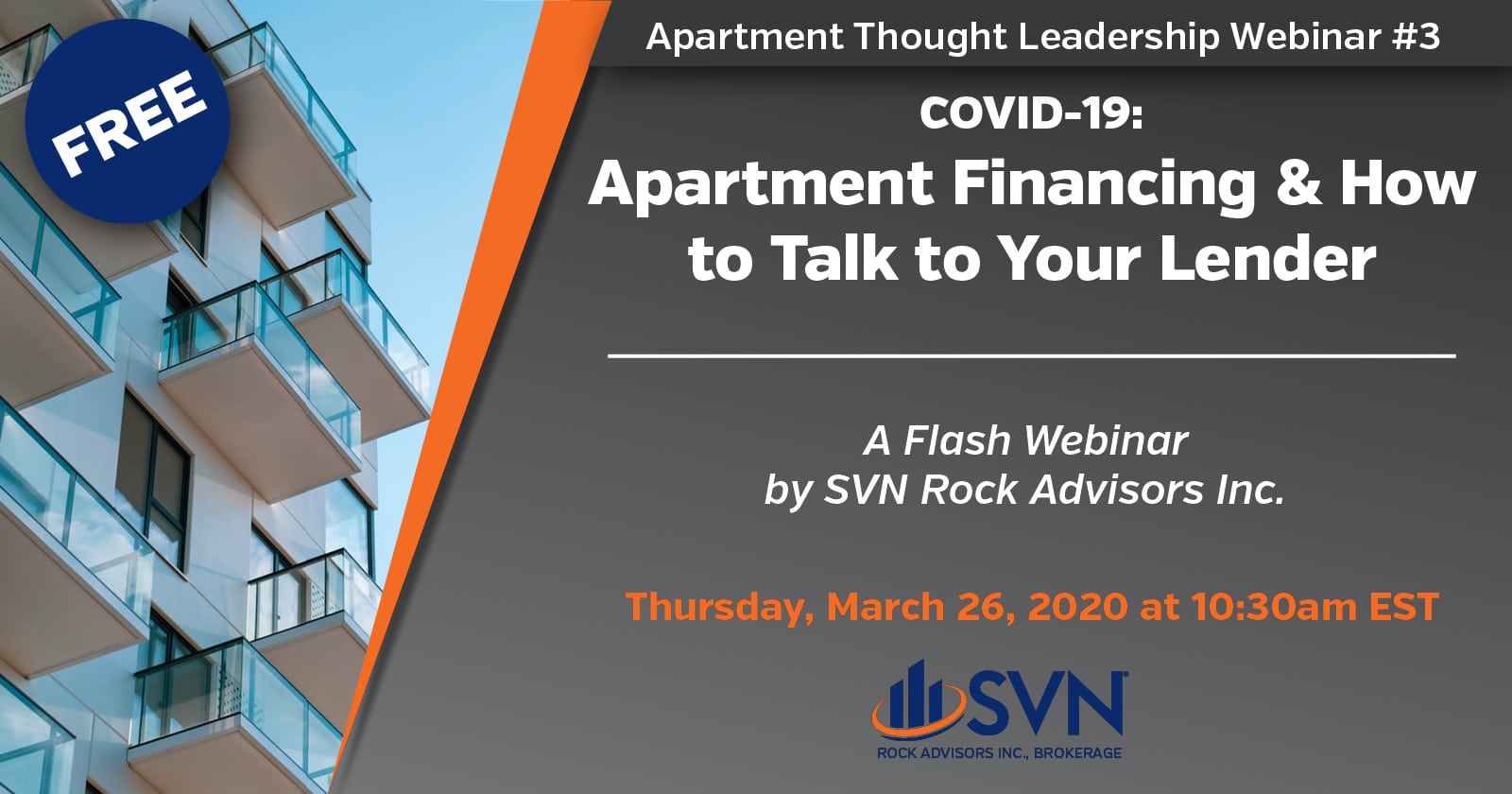 Click to Watch Replay
As April 1st approaches, landlords are getting ready for an uncertain rent collection. This webinar will recap how you prepare for that time and give you some suggestions on the next steps with lenders.
This is a preliminary session only, things will become more clear after the first week in April.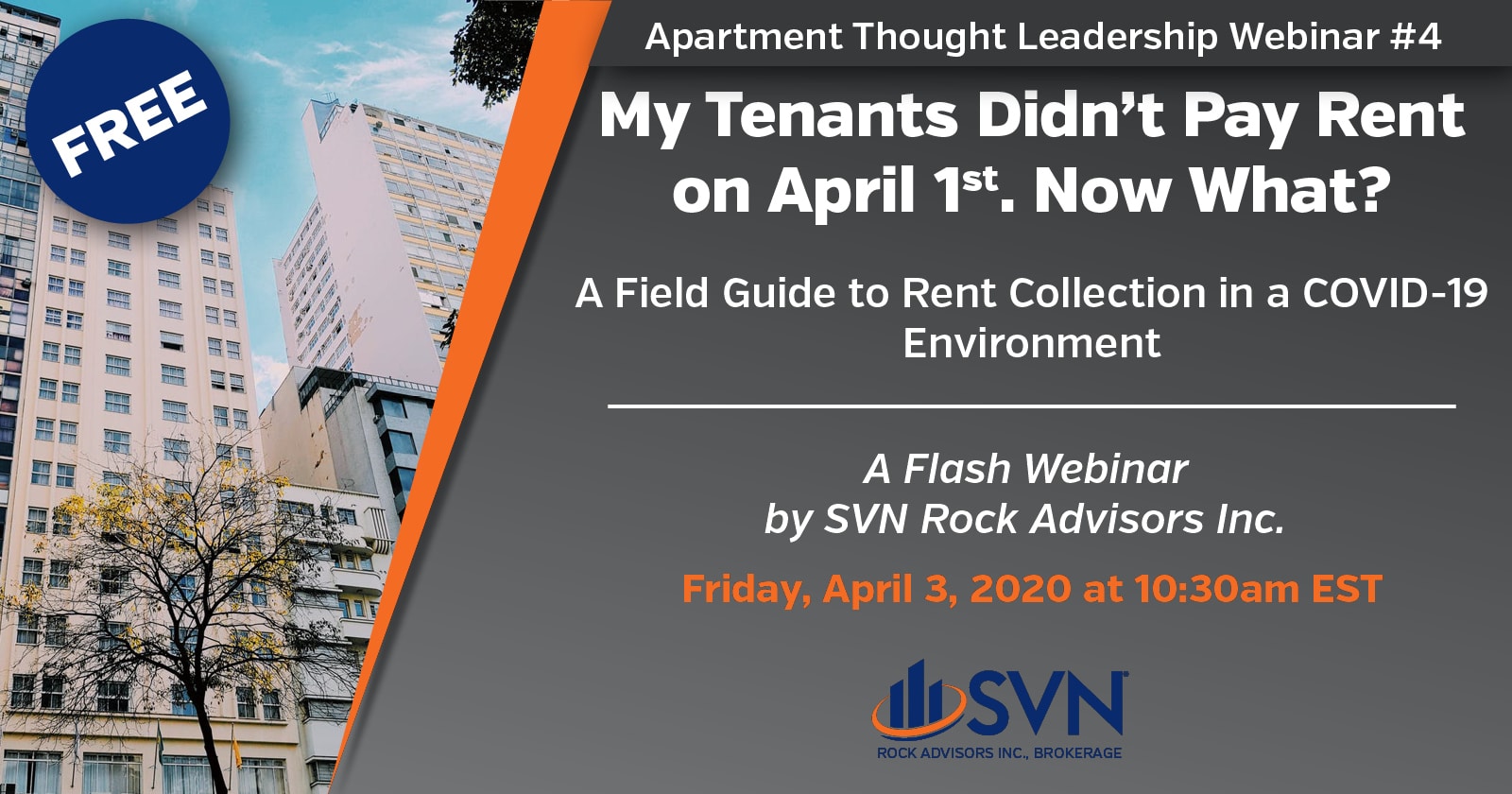 By April 3rd, we will have an idea of how many tenants did and did not pay their rent after the first month impacted by COVID-19. We will share our findings in this webinar, allowing you to benchmark your results to other landlords.
We are going to review a template telephone script as a guideline to your rent-collection discussions with tenants.
We will provide actionable strategies to maximize rental payments now and in upcoming months.
We will guide you in setting up a payment plan to catch up on unpaid rents.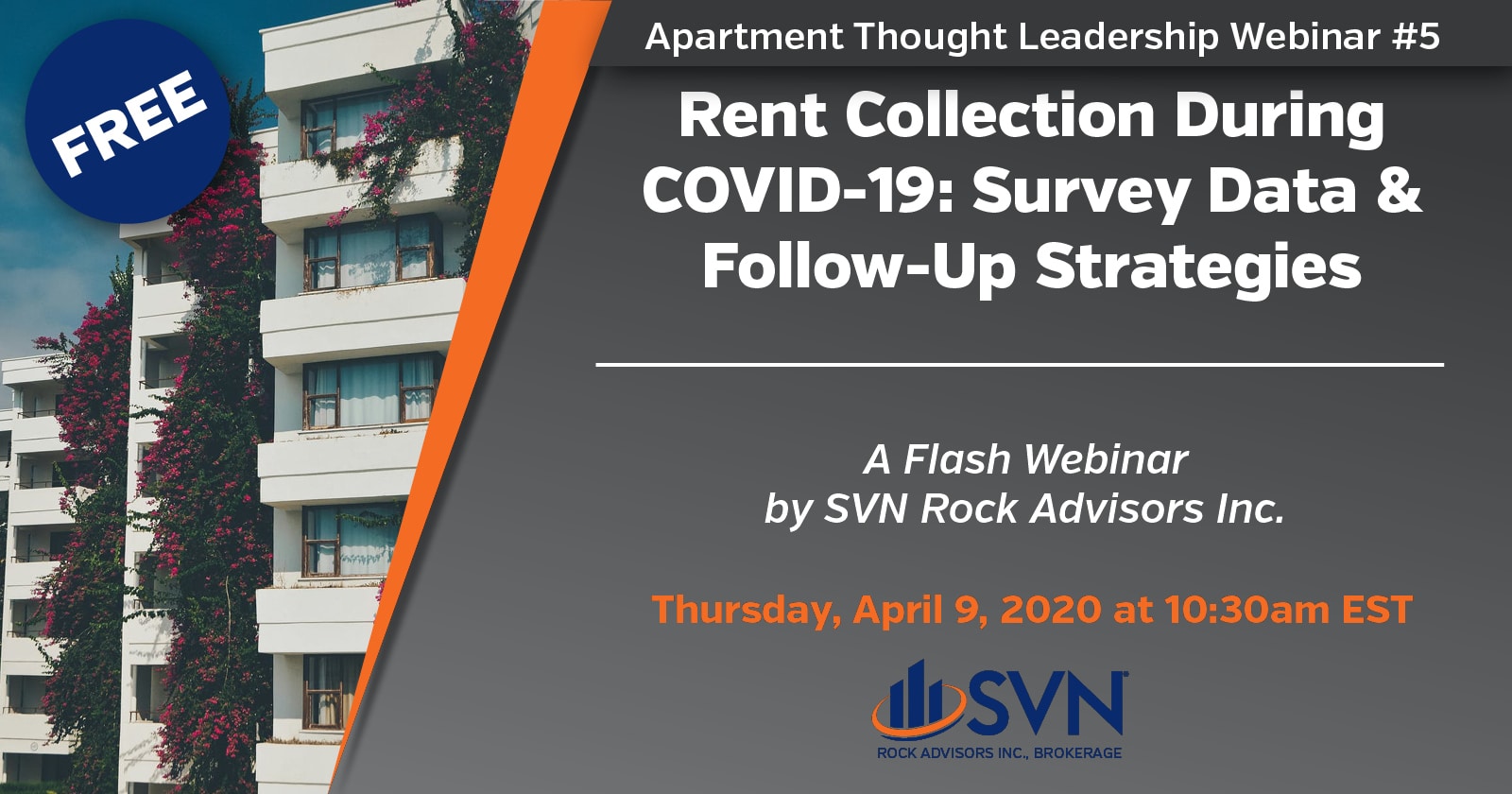 Join SVN Rock Advisors for the next in our series of Flash Webinars designed to help landlords navigate the COVID-19 Environment. We'll provide a detailed drill down on:
How many tenants paid rent April 1st? Our detailed analysis of our cross-Canada survey.
What to do to collect rent from tenants who didn't pay: We have the resources and advice.
How to talk to your lender: Use our study data and resources to talk to your lender about your plan to stabilize your NOI.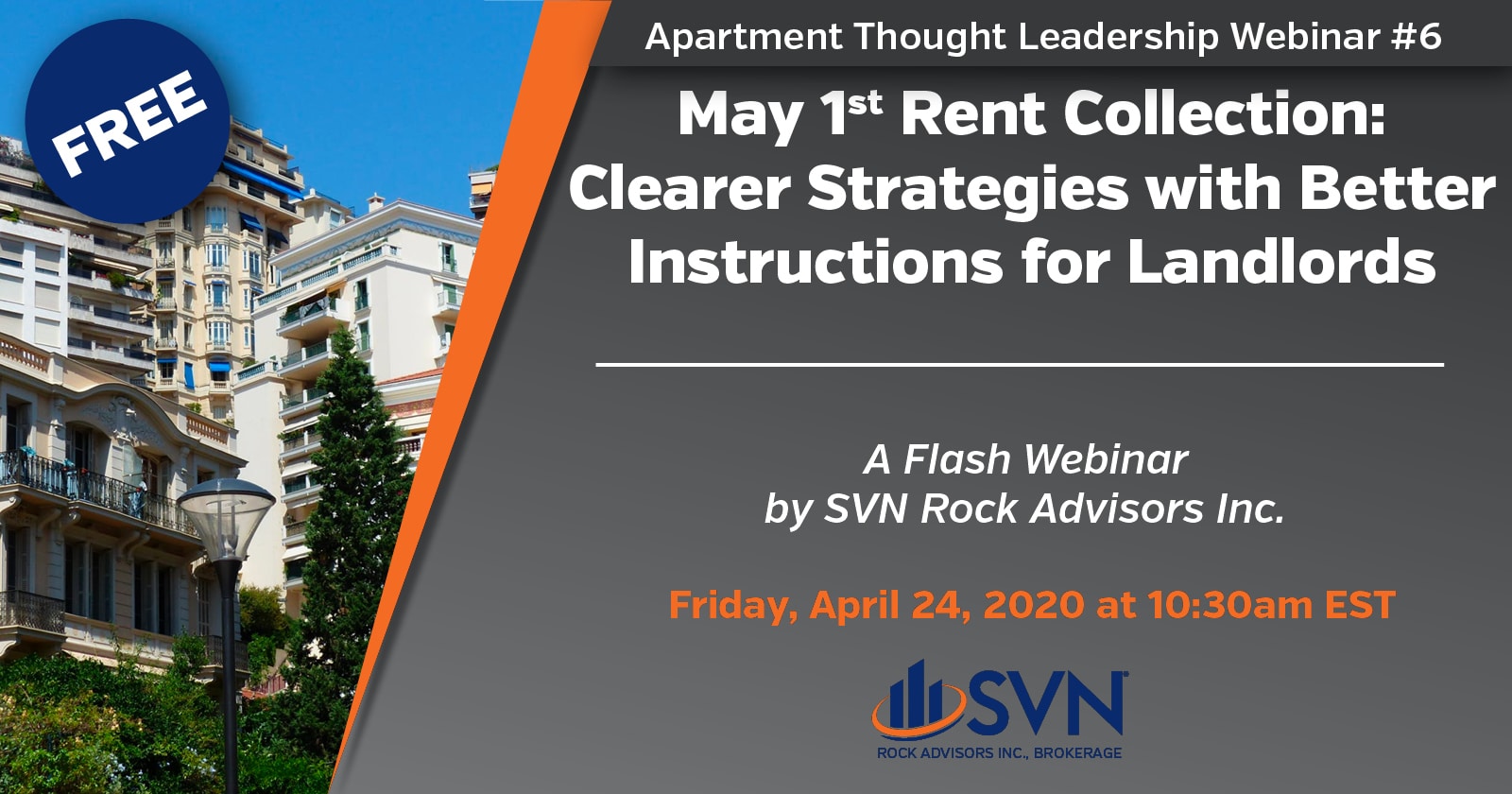 Actionable strategies to improve May 1st Rent Collection.
Better feedback from April 1st rent collection across Canada (generally good news).
If we're heading into a recession, what happens to rents and vacancies?
How to batten down the hatches and what not to do in a recession.
What happens when immigration drops, cap rates change, and lenders become mean?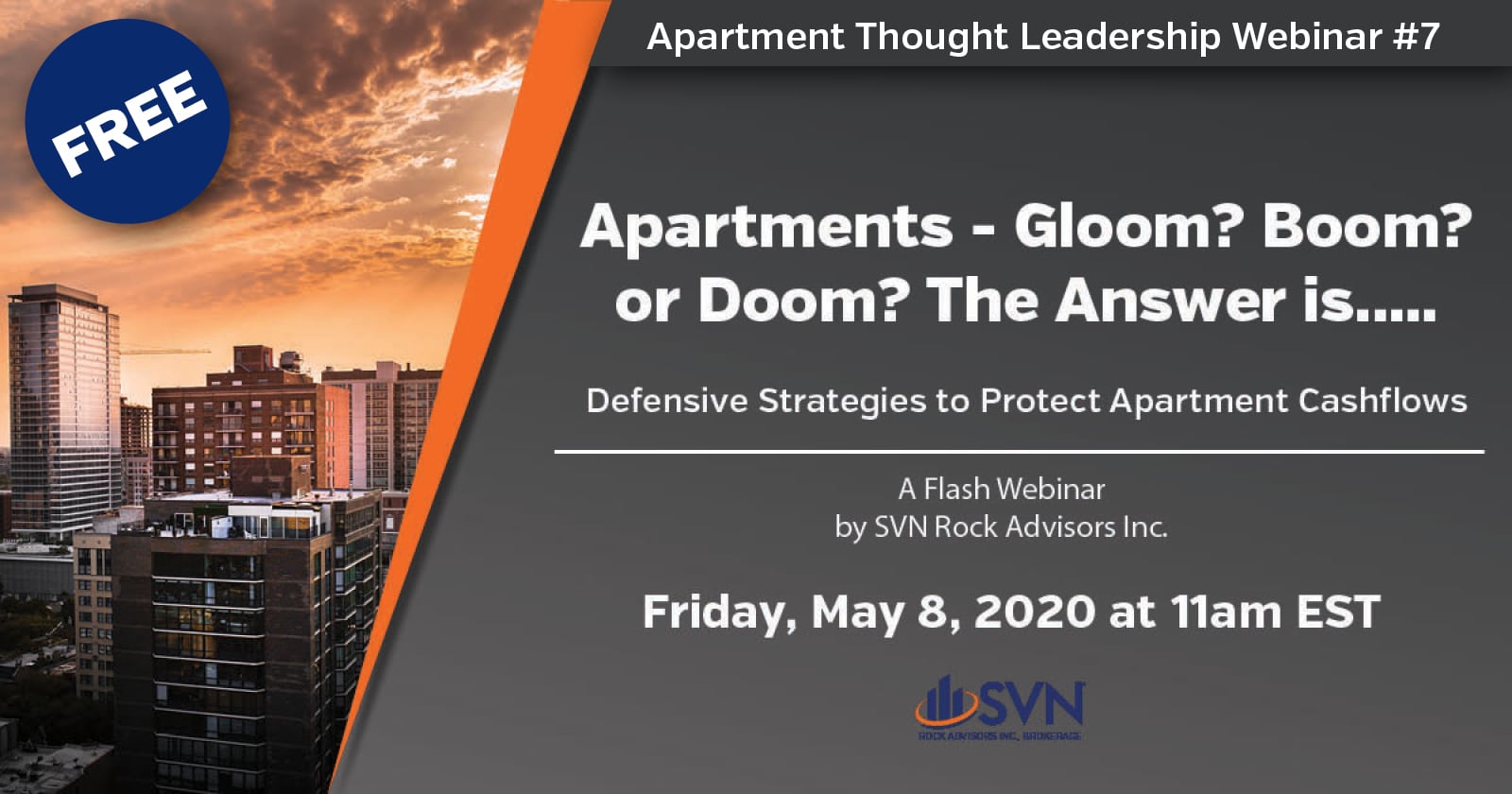 How does an apartment market slip into recession, how do vacancies and rents unfold, and defensive strategies to protect cash flows.
In addition to the CMHC lending changes, we've had hundreds of discussions with apartment owners, developers, and influencers across North America. We're going to give you the download on what everyone is thinking.
The 10 Key Takeaways from the Last 10 Weeks:
What does the new CMHC lending policy mean for you?
Apartment valuations and transactions
Rent collection for May & June
Vacancies and rent concessions update
Insight from the apartment fraternity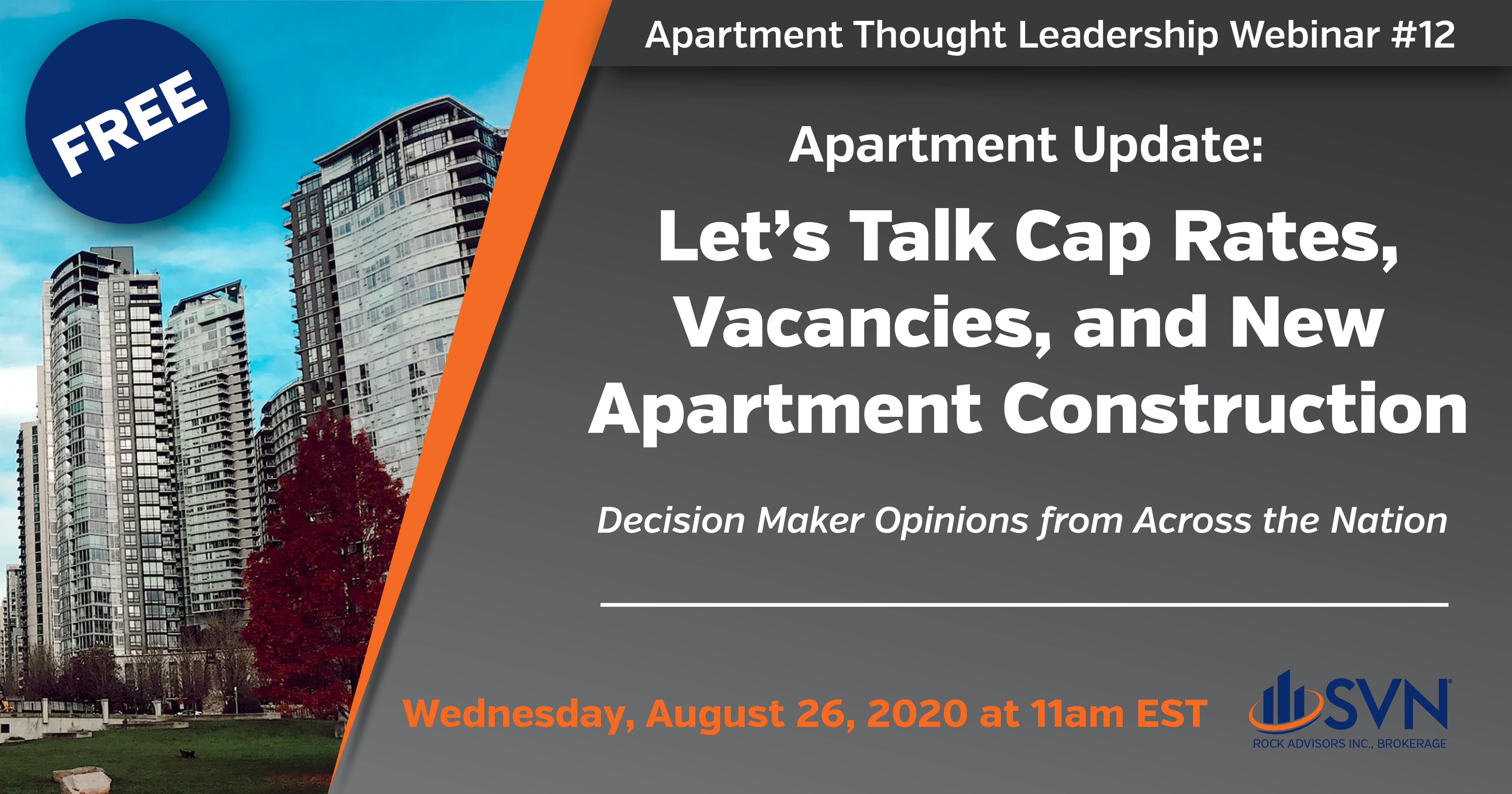 1. What's happening with Cap Rates?
Cap Rates before and after the COVID shutdown
Transaction volumes
Apartment cap rates by asset class: What's compressed? What's expanded?
2. What's happening with vacancies and rent levels?
Where are vacancies increasing and decreasing?
Making critical pricing decisions in a changing market
Strategies to recession-proof your apartment income
How are today's renters thinking?
3. The big surprise: The update in new apartment construction.
Everyone's looking for a safe harbour in a storm
Who's building and why are they building?
Business is booming, but everyone's being more cautious
What is one opportunity every apartment owner missed during the shutdown (but it's not too late!)?
What are the 4 things building owners should do to prepare for 2021?
What is the true turnover? Should you renovate on turnover, and if so, how much should you spend?
What are the true operating costs with more people working from home? – with Peter Mills from Wyse Meter Solutions
What is the true rent? Where are rents rising and dropping?
What are the 5 things nobody's talking about (but should be)?
What is the true cap rate (compression, expansion, or both)? We will look at some end of year transactions.
Where are the opportunities in 2021? Acquisition, disposition, new construction, or conversion?
What do you need to know about CMHC financing? – with Mark Kay from CFO Capital.
Who is buying?
What can you expect in 2021?
Other SVN Rock Advisors Webinars: