New Apartment Construction & Development Workshops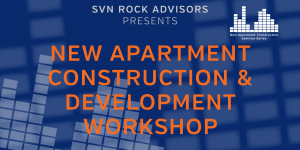 Part of the SVN Rock Advisors New Apartment Construction Seminar Series
Toronto
When: Nov 27, 2018 1:30 – 4:30 PM
Where: Metro Toronto Convention Centre, South Building
→ Register
Past Events
➜ Toronto Nov 28, 2017
➜ Calgary Oct 25, 2017
➜ Vancouver April 10, 2017
➜ Toronto 2016
An exclusive session on one of Canada's most vibrant real estate opportunities and development activities:
New Rental Apartment Construction
Hosted by Derek Lobo, the workshop will provide a strong focus on how you can benefit from the current rush to build apartments.
We will answer:
Where Do I Build? – Which Canadian markets are ripe for apartment development? Do i build downtown or take my chances in the suburbs?
Why Do A Market Study? – Who are my rental market competitors? What's the gap in the market for my to build?
Do I Need A Feasibility Study? – What should I build? What rents can I charge? What is the depth of the market? How much money will I make?
How Do I Do A Step-By-Step Financial Analysis Of My Purpose-Built Rental Apartment Building? What does my capital stack structure look like? How do I approach financing or partnership agreements?
What Value Can A Sensitivity Analysis Bring? How do I manipulate variables like rent level, unit mix and size, capitalization rates, and project timing or lease-up schedule to determine what I should build to maximize my profit?